Post by Reuben on Aug 24, 2019 13:24:20 GMT -5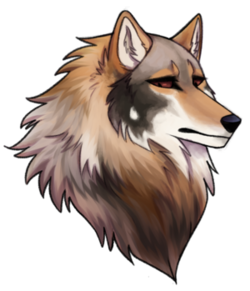 Issa can understand where Nyx is coming from with the whole situation involving her and Iokav and all of that jealousy that was hidden in Nyx's words. Nyx now knew their past, the connection they had. It wasn't foolish, at least not to Issa, for Nyx to wonder if anything every arose.

To wonder if anything still lingers on Issa's part. She loved Iokav, with every fiber in her being she did. But she wasn't in love with him, and she never was.

She's not sure if Nyx will ever completely believe her, but that's okay. Issa knows for herself that she never felt anything for Iokav other than brotherly and friendly love, and she knows that she'll never think twice about she and Nyx's relationship.

"I don't wanna have to compete with some dead guy, or anybody. I... you're mine. There's no room for anybody else." Nyx said. Issa gave a small smile and nodded, letting Nyx know that she was on board with that ship.

"You don't have to compete with anyone. I am yours as much as you are mine, and no one's going to be able to change that." She was sure on that. As sure as she could be.

The only people that would be able to change it are Nyx and herself. She'd never let anyone get between them or sway her opinion on Nyx. And god knows she's not going to ditch Nyx; she couldn't. And she doesn't want too.

In all honesty, Nyx would have to tell her to get lost in order for Issa to truly leave. She's just hoping that'll never happen. And even if it does... she'll always care for Nyx. No matter what happens, even if this whole thing goes sour and she ends up hating Issa and everything about her. (Which, she's really banking on all of that not happening).

She'll always still be there for her; whenever Nyx calls, Issa will be there.

She sighed into Nyx's fur as she pressed her nose up against her neck, letting her calming scent help soothe her, all the while those tears that just wouldn't stop calming dampened her cheeks.

Nyx said she wishes she could fix everything. Issa doesn't know if everything that happened could be fixed. That maybe they're better off dead being shattered and tucked away in a far, far corner of her mind. She's finally learning to let go of her past; not all of it, because she doesn't even know if that's possible... but slowly, piece by piece, she's letting it all bleed away.

Thinking of all the shit that hurt her back then was useless, and if anything, it made her feel like she'd relapse. That everything would replay like a broken record, and that she'd never escape it.

Nyx has already fixed so much. She might not be able to fix what happened back in Russia, or how fucked up it left Issa, but she's done so much more. She's helped lead Issa away from it; defend her mind from those dark thoughts and keep them at bay.

And more importantly, she's taught Issa how to love again. Something she thought would forever be foreign to her, and tainted by her father. She'll forever be grateful for that. Be grateful for Nyx.

"I don't regret this either. I swear, you're the best thing that's ever happened to me," Nyx cried into her fur. It made her feel so overwhelmed with love; it made her hiccup and give a pathetic little smile that she couldn't stop from coming. Not that she wanted to.

"We'll try together. I'm never going to ask for you to change, Nyx, or to morph into something you're not comfortable with. You now is what I want. You now is more than good enough for me." She said softly, leaning against Nyx, showering in her warmth and comforting presence.

"I'm scared, too... but I know we can do this. That you can do this. And whatever happens, I will always be here for you. Always."

Issa's scared of a lot of things, and unsure of a shit ton, too. But she'll always be sure of one thing; she will always love Nyx. Pure and raw and uncaged, she will love her with everything she has.