Post by Reuben on Apr 25, 2019 16:17:28 GMT -5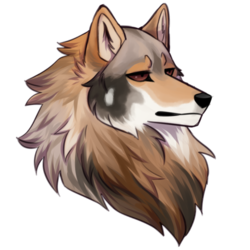 It was a nice, clear, and sunny day, and Issa was deciding to spend it in the vast landscape that was The Tundra. It was nice and flat, allowing her to see for miles and enjoy the scenery in all it's glory. However, she wasn't just here to relax and wonder around. As she pressed her nose to the ground, taking a whiff at a track left for her to follow, her hackles fluffed.
She'd caught scent of a mother deer and her newborn fawn. Her powerful legs carried her swiftly across the flat field, occasionally kicking a few pebbles that got beneath her paw pads, with her tail swishing slowly at her hocks.

She couldn't remember the last time she's caught and killed a deer, it's been that long. And while the doe would be a more suitable meal, she wasn't the quickest, and with no trees and shrubbery to help slow the deer down, it'd most likely out run her. It had the flatness and openness of the tundra to it's advantage. But the fawn, however, was weak. Slower and more susceptible. That was her target.

It didn't take long for her the pair to come within eye shot. The doe was grazing, completely unaware, while her fawn pranced around, occasionally tumbling over only to quickly regain it's composure and scramble upwards. Her stomach rumbled with a low growl as she instinctively started to circle her prey.

She was accessing, trying to figure out the best way to go about this. She couldn't exactly sneak toward them. She'd have to get as close as she could, then pounce. The doe wouldn't go up against a beast like Issa, so she wasn't wary as to if the mother would stay and put up a fight. If the wolf got her jaws around the fawn, it was game over, and the mother would just have to carry on without its offspring.

The wolf inhaled calmly, deep brown eyes locking onto the fawn with a predatory gaze. She didn't feel bad about killing it - it was simply the way of life. One animal had to be sacrificed in order to keep the other alive. With that thought in mind, she stepped closer, body rigid and paws turned in a way that allowed her to approach silently. Thankfully, she was down wind, so she could get relatively close without the mother being alerted of her scent.

Issa stood as still as a statue, leaving only her fur to move as the cool breeze carved through it. Her tail stilled, almost pointed, before her legs tensed up. Muscles locked, expression calm, before she sprung forward, large paws kicking up dirt when she caught purchase.

The doe bleated with panic, eyes bulging and wide as she quickly turned to flee, her fawn slagging behind. Issa surged forward, her burly figure still managing to carry herself with graceful prowess. Her muscles rippled beneath her luscious fur as she opened her jaws, her neck straining as she leaned forward to nip at the fawn's fragile limbs.

The newborn tumbled to the ground, bleating softly for its mother as Issa towered over it, powerful jaws coming to latch onto its skinny neck. Another cry, but by now, the mother was long gone, having no desire to face the wolf one on one.



Issa jerked her head in a quick movement, ears perking as a familiar crack resounded from the fawns neck. Its small body went limp in her jaws, easing within her jail of teeth, and slumped downward until the wolf set its lifeless body against the ground. She huffed as she licked her chops, eyes calm as she gazed at the creature, a silent thank you forming on her tongue.