Post by Deleted on Aug 5, 2019 0:51:56 GMT -5
G E N E R A L
Name :
Selene Hilker (Suh-Leen)
Fake Name :
Taylor Asker
Alias :
Sully
Gender :
Female
Age :
20 years (317 years)
Orientation :
As straight as her hair, perhaps Bisexual
Occupation :
Waitress at Twin Moons Diner
A P P E A R A N C E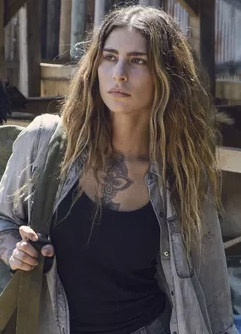 Selene's hair is naturally curly and what some would call voluminous and unruly. It's a deep shade of brown with a couple added in highlights. On very rare occasions is it straightened. Most of the time her eyes are an ordinary shade of brown, not having much depth to them. However when her energy begins to drain and she craves what all the other night-walkers crave, they begin to brighten up to a remarkable amber hue. Selene isn't too tall, but is taller than average, only about 5'7. She also has a pretty average frame. If her curly hair didn't help you recognize her, then her tattoos might. She has a fairly large one on her upper chest, not having much meaning to it, a few on her right arm, and a date on her left outer thigh. Despite the collection of body art that she loves, they're almost never seen as she usually wears a jacket or long sleeve and jeans.
Scent :
Spices and Eucalyptus
P E R S O N A L I T Y
Selene learned to compartmentalize her feelings early on, showing too much emotion at home would get her in trouble, plus what's the point? Being that she lives alone with her dogs Magna and Onyx, Sully is at ease with a solitary existence, fewer people get hurt that way being that one close to her can't be used as leverage or blackmail. A skill that she picked up is melting into her surroundings, she will plaster any expression and display any body language in order to not seem suspicious or out of the ordinary. Selene can also easily detach herself from those around her to view them as a target rather than a living thing with emotions, a skill she learned from her days as a leech. Selene is rather taciturn, not saying much and if anything is said at all they are closed off statements. If one does worm their way into her heart whether it be romantically or just a friendship, she will reveal her much softer, caring profile. She steals to cope with her feelings even if its something as small as a key-chain. She uses her hypersensitive ears to listen to subtle and not so subtle cues that someone saw her snatch something. Whether it be a raise in their pulse to them whisper to someone else.
The date on her thigh represents her best friend's birthday who showed her the ropes of what she had become, also someone who urged her to feel something again. After decades of knowing each other, a petty Mage set their secluded home on fire. Selene managed to escape the flames but she's unsure if Finn (Fennick) did as well. Once she returned to the site of the incident he was gone. After losing the dude, she stopped going after what kept her alive. She wanted to end it but merely couldn't and she sure as hell wasn't going out like him. Selene began to starve herself completely to the point where it hurt to breathe until one day she spotted the revolting witch and she couldn't help herself. Taking her on by surprise, she drained every drop of blood from her. To this day she hopes to find Finn.
Her two dogs are Magna and Onyx.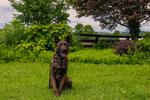 Magna is a brindle dutch shepherd and is a puppy at heart. Despite being moderately trained, she will want to run up to anyone she sees and give them a big ol' kiss.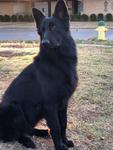 Onyx is a black german shepherd and treats Magna like his little sister and is extremely protective of Selene. He was meant to be a working dog but failed the test.
Likes :
Dogs, Slow and soft music, Dr. Pepper, Storms
Dislikes :
Has a grudge against all Mages, Summer, Arrogance
R E L A T I O N S H I P S
Mate :
N/A
Friends :
Finnick (Finn) <> A very old friend who showed her the ropes. <> Unknown whereabouts
Rivals :
N/A
not my table, my friend revan made it xo