Post by Razza on Nov 4, 2019 10:48:42 GMT -5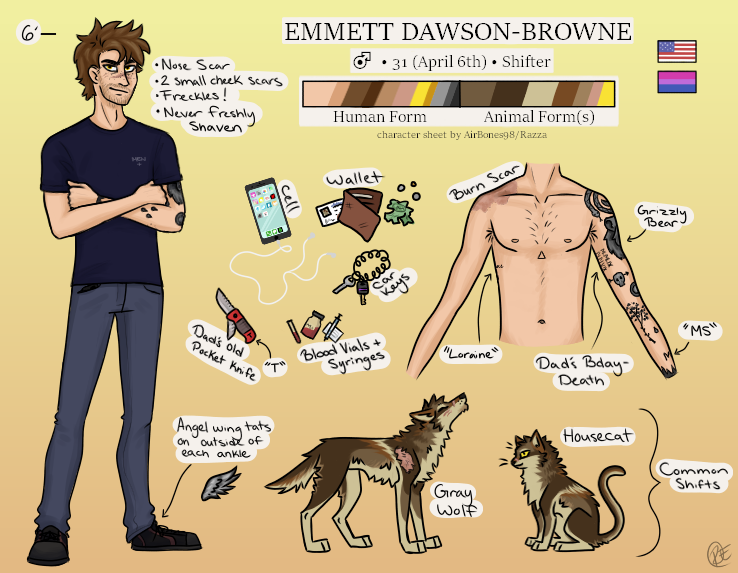 Name:
Emmett
"Em"
Dawson is his mother's last name, and Browne is his father's
Age:
31
April 6th
Aries
Species:
Shifter
Father was a shifter and mother is human
Common shifts are a gray wolf and house cat
Medium-high skill level (see more in "Supernatural Abilities")
Gender:
Cis Male
He/His pronouns
Orientation:
Bisexual
Single
Languages:
English (first language)
Has a brassy southern accent
Education:
High School Diploma
Elleslie River High School
2.6 GPA
Was on the swim team. Fucking hated all classes except for like, Great Works where they'd talk about movies lol
Occupation:
None Currently
Seeking occupation in Aurora Creek

Has worked odd jobs while traveling, often getting paid under the table
Home:
None Currently
Seeking residency in Aurora Creek
Either stays in motels, couch surfs, or just lives out of his car if the money's tight
Transportation:
Ford F-150
Old, and gives him lots of issues

The red paint is chipping off and it's all scratched up. Not a nice truck but it gets the job done
Supernatural Affiliation:
None
Grew up around his dad's side of the family, and learned many of them were shifters when he was a teen
Was part of a close-knit shifter group in his early 20's, but that went south and he was running from them for a long time up until recently
[+]
enthusiastic, playful, charming, laid-back, funny, optimistic, moral
[0]
mischievous, confident, competitive, emotionally restrained
[-]
unintelligent, selfish, egotistical, reckless/rash, misleading, noncommittal
Favorites
Animal?:
Flamingos and bears
Color?:
Green
Season?:
Spring
Food?:
Pretzels, pasta, pizza, sushi
Drink?:
Coca Cola, beer
TV Show?:
Probably fucking Dateline or something
Music?:
Female powerhouses & divas, Classic Rock, Blues
Least FavoritesAnimal?:
Horses! He's scared of them
Color?:
Purple
Season?:
Winter
Food?:
Brownies, anything with avocado
Drink?:
Lemonade
TV Show?:
Talk/gossip shows
Music?:
Electronic and screamo
5 Prized Possessions:
His phone and car lol (that shit's expensive!), his dad's old pocket knife, a pair of blue socks with pink flamingos all over them, and tbh any blood he has on him.
Drinks?:
Socially
Smokes?:
When he can
Drugs?:
Just weed. He used to do harder shit when he was younger but doesn't bother any more. Emmett also used to be keen on the unique rush of human blood when he was with his old shifter group, but has tried wrangling that habit ever since running away
Appearance:
Emmett is a tall, lean man with wild medium-brown hair and honey colored eyes. He's white with slightly tanned skin and always has stubbly facial hair.
Tattoos:
A forest skyline wrapping around his left wrist. A portrait of a bear on his upper left arm and a coiling snake above that on his shoulder. Two sets of black roman numerals on the inside of his bicep. Various other small tattoos like the abbreviation for Mississippi, a tiny skull, a sushi roll lmao, etc. on that arm. A small triangle below his sternum. The name Loraine written on his rib cage (he has no idea how he got that or who the hell Loraine is). Two matching angel wings on both of his ankles.
Piercings:
Emmett has both ears pierced from high school but that shit's closed up by now.
Scars:
A decent sized line across the bridge of his nose, and two much smaller gashed on his left cheek. A large and gnarly burn scar on his left shoulder reaching down to his shoulder blade. His scars are one of the few things Emmett's self conscious of, physically.
Hygiene:
Pretty decent. He's long mastered the art of staying as clean as possible while traveling. Usually just smells like detergent and whatever apple-cinnamon shit he prefers for shampoo scents.
Clothes:
Emmett can wear a pretty wide range of clothes, and doesn't really have a set "style" he abides by. Mostly cause he gets a majority of his stuff from thrift stores and sales racks.
His casual wear is usually dark jeans or joggers, paired with a tshirt and a thin hoodie if it's chilly. He has a few old Madonna and Britney Spears shirts that he loves, but when those are dirty he'll wear colors like white, green, black, and navy blue most often. He'll also wear thrifted button-downs too, when he's in the mood. Wears dingy, old black sneakers pretty much all the time but also owns a nicer pair of brown swede boots.
Lounging around inside Emmett is either in a tshirt or more frequently no shirt at all, and his joggers.
Formal wear?? He doesn't know her.
Accessories:
Plain black sunglasses when it's sunny or on the days he looks like fresh hell.
Supernatural abilities:
Emmett's had plenty of years to hone his shifter abilities and so is pretty decent at it. His most common shifts, as stated above, are that of a gray wolf and a house cat, both of which have brown and tan fur patterns and appear pretty natural-looking, if you don't know any better. Anything else though, Emmett can struggle with unless he really does his research on what the animal looks like. He also is terrible at doing any partial shifts and actually finds them mentally painful to do, only able to achieve very small and temporary changes on a good day. Em does not find shifting tiring unless it is after a perfect shift where he spends the majority of the time in the animal's form. Instead he likes to seek out blood (witches, he finds, make for excellent dealers and often have plenty on hand, for a price) and keep it stored away for necessary occasions. Mice blood is a particular favorite of his, making it easy to sneak around as long as you're careful!
Emmett can, but adamantly refuses, to shift into other humans. He finds the idea violating in a way, and fears getting back into his bad habit of using human blood like a drug, much like he and his old shifter gang did a long time ago. The similarities in his and another human's DNA gives off a very unique, addictive effect, even when not shifting into them, and so he avoids it at all costs. He's over it, mostly, but these days even seeing someone bleeding can make Emmett more uncomfortable than the next person.
History:
wip